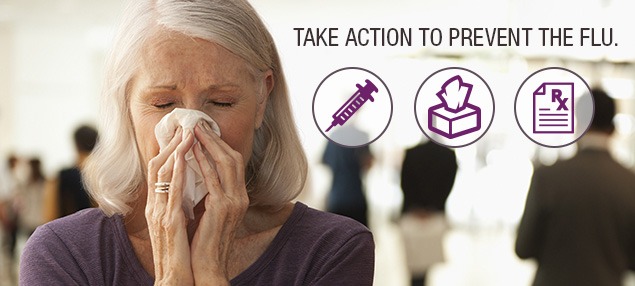 (December 1, 2018) – Palmeira will reinforce National Influenza Vaccination Week (NIVW) December 2-8 by reminding its home-based patients the importance of getting a flu shot for extra protection this winter.
"We always stress the importance of flu shots to our home-based patients who are typically recovering from surgeries, illnesses or managing long-term health conditions," says Palmeira CEO Gen Barter. "For our newer patients, the message is that even if you didn't get a flu shot back in September, then it's not too late."
According to the Centers for Disease Control and Prevention (CDC), statistics from past seasons show that few people get vaccinated against influenza after the end of November. This slowdown was the impetus for the CDC establishing National Influenza Vaccination week in December to remind people that even though the holiday season has begun, it is still recommended to get a flu vaccine.
As long as flu viruses are spreading and causing illness, vaccination should continue throughout the flu season in order to protect as many people as possible against the flu. Even if you haven't yet been vaccinated and have already gotten sick with the flu, you can still benefit from vaccination since the flu vaccine protects against three or four different flu viruses, depending upon which flu vaccine is taken.
Barter explains that the flu isn't a "bad cold" and can result in serious health problems and complications such as pneumonia, bacterial infections, or hospitalizations. Flu can sometimes lead to death, particularly in those who already have a compromised health status.
During the 2017-2018 flu season, the CDC estimates the flu caused:
49 million flu illnesses – more than the combined populations of Texas and Florida
960,000 flu hospitalizations – more than the number of staffed hospital beds in the United States
79,000 deaths – more than the average number of people who attend the Super Bowl each year
Everyone is at risk for serious flu-related complications and certain groups are at higher risk including young children, pregnant women, those with certain chronic health conditions like asthma, diabetes, heart disease or lung disease, and people 65 years and older.
For people at high risk, getting the flu can be more serious than for other people. Flu is more likely to lead to serious flu complications that can result in hospitalization or death. It is also important for family and friends of those under home-based care to also get vaccinated to protect those most vulnerable to serious flu illness such as older people and people with certain chronic health conditions.
"For our home-based patients, the goal is to have patients recover faster and reduce the need to return to the hospital," concludes Barter. "And flu vaccination is an important tool in making sure our patients stay on track and achieve better outcomes."
About National Influenza Vaccination Week
The Centers for Disease Control and Prevention (CDC) established National Influenza Vaccination Week in 2005 to highlight the importance of continuing flu vaccination through the holiday season and beyond. Flu vaccination helps prevent serious medical events associated with chronic conditions. Vaccination has been associated with lower rates of some cardiac events among people with heart disease. Flu vaccination also has been shown in separate studies to be associated with reduced hospitalizations among people with diabetes and chronic lung disease.
About Palmeira Home + Health
Palmeira Home + Health, a division of Palmeira Health Services headquartered in Orange, CA, is a leading home health care provider offering skilled nursing services to patients in Arizona and Nevada. Palmeira helps patients recover faster by initiating follow up care sooner within 24 hours, using a sophisticated Point-of-Care Technology for a more effective continuum of care, and providing a coordinated treatment regimen focused on lower hospital readmission rates. Palmeira currently works with over 500 physicians, hospitals and rehabilitation centers to provide services with lower readmission rates half the national average. Learn more at www.PalmHH.com.
#  #  #